Local City of Fayetteville

Northwest Arkansas was originally Native American Country. Used as a hunting ground by the Osage and later inhabited by the Cherokee, the first permanent settlers came into the area in the mid-1820s when Arkansas was still a territory. Fayetteville was established as the county seat on October 17, 1828. Fayetteville has long been known for its innovative spirit, as an academic center, as the "Athens of the Ozarks", and as a "hilly area" known for the 7 hills around and within it.
        On October 17, 1828, Washington County was established out of Lovely County, which had been established the previous year. Originally named Washington Courthouse, the City of Fayetteville was given its name in 1829, when Postmaster General William T. Barry ordered the name changed to avoid confusion arising from another town in Hempstead County already named Washington. County commissioners chose the name Fayetteville because 2 of the commissioners, James Buchanan and John Wooddy, hailed from Fayetteville, Tennessee within it.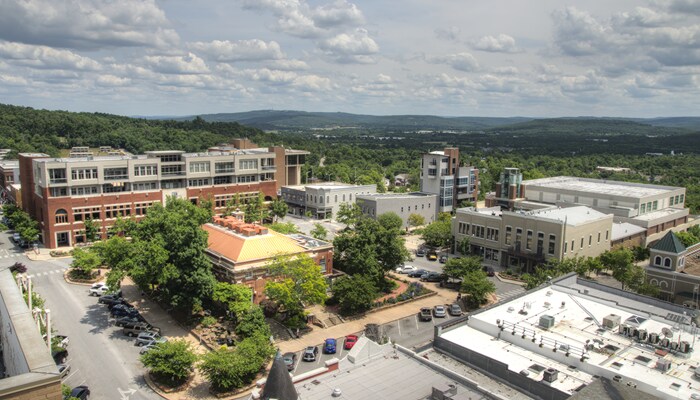 The city of Fayetteville has a Facebook Page: https://www.facebook.com/FayettevilleArkansasGovernment
To see the information from the official city of Fayetteville website: https://www.fayetteville-ar.gov/
There are a bunch of fantastic local parks in Fayetteville to explore: 
         Bayyari Park - Acquired through the Park Land Dedication Ordinance in 1995, this park is located off of Colonial and Regency in the David Lyle Subdivision. This 7.4-acre park includes a grove of trees and sits adjacent to the White River.  Amenities include a hiking trail, picnic area, and playground.
          Bryce Davis Park - Davis Park was originally 9.2 acres and was the city's first park dedicated from the Park Land Dedication Ordinance in 1988. In addition to the existing play equipment and basketball courts, the park now includes restroom facilities, additional picnic areas and a 3-acre dog park with a pavilion, picnic tables, benches and drinking fountain. Future phases of the park development will include a fishing pier.