One recurring theme you've probably noticed with the Lewis Ford's news feeds is the fact that the Lewis family is constantly looking for ways to give back to the Northwest Arkansas communities that have helped them be a top dealership in the Fayetteville area for over 75 years. Whether you're a regular reader of this blog, reading up on any updates to our Community Involvement page, or follow us on social media like our Facebook page, you're bound to see post after post about how the Lewis Ford team is giving back to NWA and staying involved in the area's activities. This week, we're giving you a quick round up of a few more local events we've attended or hosted in the recent past.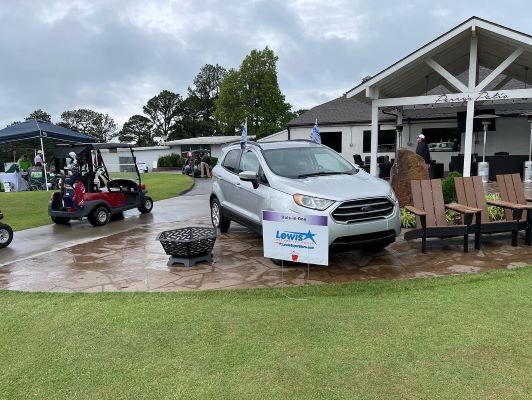 One annual event we love being involved in every time it comes around is the Fayetteville Chamber's Spring Classic Golf Tournament! The Lewis family provides a vehicle that an attendee can even win with a hole in one. This year, it was a rainy but enjoyable day at Fayetteville Country Club, and our sales staff and marketing team got to hit up the golf course and have an afternoon of fun in NWA. We got to spend some time with some other local business owners, sponsors, and other NWA residents as well, like the folks from SWEPCO, Ozarks Electric, Sam's Club, Williams Tractor, and many, MANY others.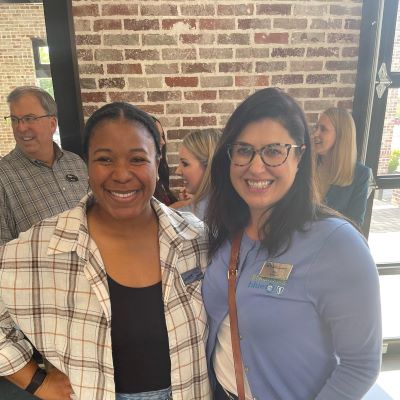 Another great event put together by The Fayetteville Chamber that we had the privilege of attending was the recent Professional's Night Out, a time spent networking with professionals in the community. Personal connections with our neighbors, customers, and business partners is a must to make sure we maintain the family atmosphere we've cultivated within Lewis Automotive Group, and this PNO event hosted at First National of NWA was a great way for our Northwest Arkansas Ford dealership to continue building that culture.
Before you think that only a select few of our employees get the chance to celebrate and take part in local celebrations, we also recently had an employee luncheon for everyone within the company who could attend to come together as a family and celebrate! We celebrated employees of the month, both with our sales professionals and our top performers within our Fayetteville Ford Service Department as well, some of our employees shared some of their success stories, all while eating some yummy pizza catered by Wicked Wood Fire Pizza!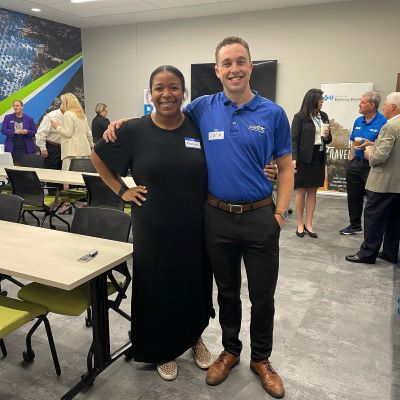 Another great event, hosted by Arkansas Blue Cross Blue Shield, that we were able to participate in with some members of our team was the recent Good Morning Fayetteville networking event! We had a wonderful time mingling with old friends and meeting new ones, and creating those local relationships that we love to foster, all while enjoying yummy pastries from the local Panera Bread in Fayetteville, AR.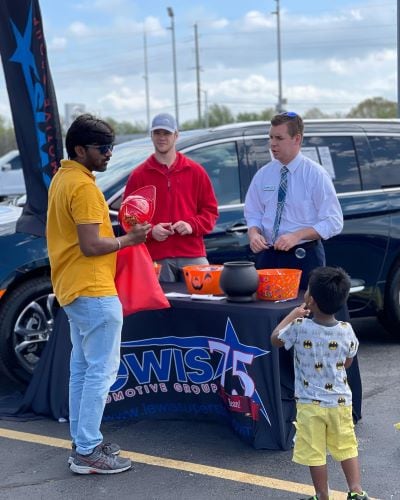 After finding a date to reschedule the Baby/Toddler/ Preschooler Fair at our Fayetteville dealership locations that we co-hosted with Macaroni Kid, without it getting rained out, the event ended up being a great success! Between the bubble and foam machine, a few costumed mascots, and all the other vendors who participated and gave out goodies, it was an absolute blast for everyone who stopped by! The families who stopped by with their kiddo(s) to participate in all the fun definitely made the day a success, and we look forward to hosting another event with Macaroni Kid in the future sometime soon!
Want to be a part of all the local fun and connections that we're constantly building on at our Fayetteville family-owned dealership? Don't forget to follow Lewis Ford Sales on social media, or you can even join the team! We're always looking for motivated, friendly, and professional individuals to add to our team, and we're currently hiring! Visit our Employment page to see what's available, and get yourself involved with our local team, as well as a fantastic future in the automotive business, as soon as possible!