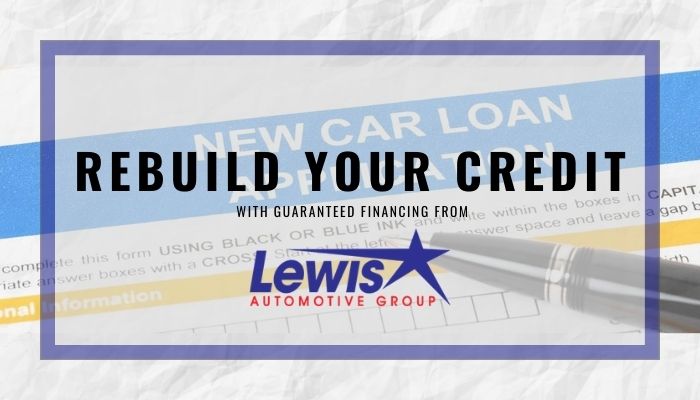 Here at
Lewis Ford in Fayetteville
, we pride ourselves in doing everything we can to make sure our customers are able to find a fantastic Ford vehicle that fits into their budget and lifestyle. We also know that life can sometimes throw in some unexpected challenges along the way, especially when it comes to finances. While there are some situations that can affect someone's credit score, there's also a bunch of effective ways to rebuild credit. We're proud to be one of the top dealers in the state of Arkansas to work along with Credit Acceptance, to help our customers get into a new car and rebuild their credit score in the process. Unexpected hiccups shouldn't stop you from being able to find a car that's right for you, and that's where the guaranteed approval process on a car loan through Lewis Ford and Credit Acceptance come in.
Of course, rebuilding a credit score doesn't happen immediately, it takes a bit of time, consistency, and patience. But, with determination and dedication, it is VERY possible. Especially when you're working with a vehicle financed through us, so you can be sure to have needed transportation in a car, truck, or SUV you love along the way. Along with car financing through Lewis Ford's expert
finance department
, there's a few more ways that someone can start rebuilding their credit:
Pay bills on time, every time
- even if the only amount on an owed payment someone can provide is the minimum, making on-time payments is the most effective way to help build or rebuild someone's credit score.
Stay far below the credit limit
- Having a credit card does help out with establishing credit history. However, major credit agencies also advise staying well below your total credit limit.
Only open new accounts as needed
- Something that credit companies can discourage is multiple applications in a short period of time. It's best to save applying for those new accounts and lines of credit only as you need them.
As you're in the process of rebuilding your credit, and you're ready to get some help on getting approved for auto financing, let us help you! We work closely with dozens of banks and financial institutions to help all our customers get the very best rates and loan terms. For our customers rebuilding their credit, we work closely with Credit Acceptance, and have had incredible success helping our Arkansas customers get into the right car for them while rebuilding their financial future in the process. Give us a call at (479)269-4960 to get the process started, and let us find you your next vehicle at Lewis Ford.