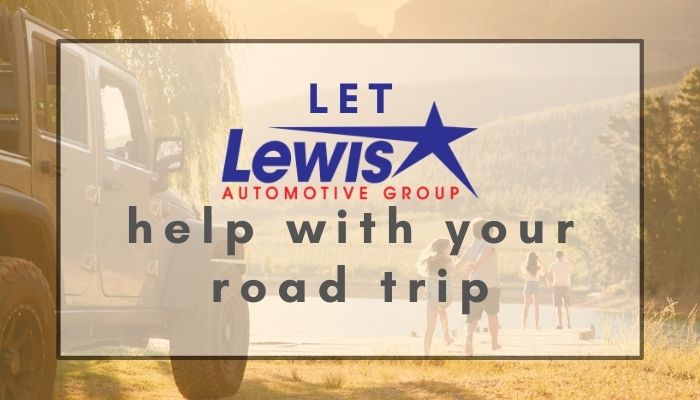 Easter is just around the corner, and summer vacation is trailing right behind it. This is about the time of year that you're probably starting to plan some traveling, and for the weather finally warming up for a season. Before you start on your trip, however, you probably need to plan in some car care and maintenance. If you were getting ready to run a marathon, you would need to hit the gym and train first, right? Your car needs the same preparation. If you're going to be taking some long drives in your car this summer, you probably want to give your engine a 'physical' before you start out. Lewis Ford's Service Department in Fayetteville is here to help with that!

Here's 5 Safety Tips to get you ready for your next big road trip:
Get an oil change - One of the simplest, yet most effective and important forms of vehicle maintenance you can get is an oil change. Your car can stay running strong, and keep your road trip on track. Make sure to schedule this a few weeks in advance of your trip, just in case your technician can address any other small issues they could find while under the hood.


Check your Insurance Coverage - If it's been a minute since you've looked at your insurance coverage and policy, this is a great time to evaluate. Be sure to clarify what your policy covers, and you can also update it if you feel you'll need additional protection while you're away from home on the road. It's also a great idea to check your insurance's auto repair and roadside assistance coverage to make sure it'll fit your needs should the opportunity arise.


Service your car's A/C - Once the weather outside decides to get warm, and stay that way, your vehicle's A/C and cooling systems will be there to keep you cool and comfortable. It's best to get your systems serviced now, to make sure they're working properly when you truly need them. As a rule of thumb, professionals recommend servicing your cooling system every 30,000 or every five years, whichever comes first.


Inspect all bulbs and lights - You want to make sure that any late night or early morning driving is properly lit and safe. Not only do you want to make sure that you have visibility while driving, you also want to make sure that you and your brake lights, headlights, and turn signals are visible to the other drivers on the road with you. Make sure to give your lights a once-over, and check for burned-out bulbs or schedule a time for your headlights to be professionally cleaned if they look dull or dingy.


Replace any worn wiper blades - It's easy to overlook your car's wiper blades on sunny days, only to turn them on when it's raining and realize they're worn or ripped. Be sure to take a look at your wiper blades before your trip, and get any worn or aged blades replaced. You can ask for all-season blades that fit the shape of your windshield, and make sure to refill your washer fluid as well.



Before you start out on your travels, whether that's through Northwest Arkansas, across the country on Route 66, or just a few towns over to visit family on Easter Sunday, check with our Service Team at Lewis Ford. Our factory-trained Ford technicians are ready to provide the whole range of automotive repair and maintenance services to keep you rolling. Let us check over your vehicle, and do everything we can to avoid any inconvenient breakdowns or expensive (but preventable) repairs while you're away from home. Give us a call at (479)275-4928 to learn about our services, and get your vehicle ready for your next road trip adventure!